Alfreda Camacho
CNMI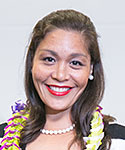 Updated December 05, 2022
Alfreda Camacho serves as the Acquisition, Program Oversight Management, and Marketing Coordinator for the Commonwealth Office of Transit Authority (COTA) under the Office of the Governor for the Commonwealth Northern Mariana Islands (CNMI). In this capacity, Alfreda is responsible for the overall procurement, contract development, and program oversight for COTA while ensuring that all procurements and contracts are in compliance and are accurate with federal and local procurement regulations. In addition, Alfreda is also responsible for developing and implementing COTA's marketing strategic plan for public transportation services offered to the entire CNMI community. Prior to this assignment, Alfreda worked for the Commonwealth Healthcare Corporation (CHCC) as the Bio-Terrorism Grant Planner for the Emergency Preparedness Program where she was instrumental in the preparation and submittal of the annual cooperative agreement grant applications to sustain funding operations for this federally funded program. Furthermore, Alfreda provided the procurement management oversight for the American Recovery and Reinvestment Act of 2009 Grant for the CNMI. Alfreda attained a Bachelor's Arts Degree in Business Administration with a double major in Human Resources and Business Management from Portland State University.
Raised by her mother, a Samoan native, and father, a Chamorro native on the island of Saipan and now, mother to an eight year old son, Alfreda's passion hones in on transparent and effective leadership alongside public service to help better serve her island community. Alfreda is currently a participant of the 1st Marianas Chapter - Pacific Century Fellows Program mentored by the honorable former Mayor, Muliufi Hannemann.
PITI-VITI Newsroom
NEWSROOM

topics:
Nov 02, 2023
Monique
With support from the Department of the Interior - Office of Insular Affairs, the Pacific and Virgin Islands (PITI-VITI) successfully held grant training in American Samoa from October 24 to October 30, 2023.
More Info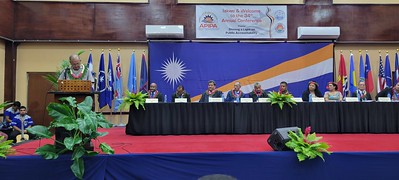 topics:
Sep 05, 2023
Monique
The Association of Pacific Islands Public Auditors (APIPA) successfully concluded its 34th Annual Conference, held from August 28 to September 1, 2023, in Majuro, Republic of the Marshall Islands. This year's conference, funded by the Department of the Interior's Office of Insular Affairs, marked...
More Info
Photo Gallery
Photos from recent activities hosted by the Pacific and Virgin Islands Training Initiatives (PITI-VITI) in support of conferences, training and leadership development, are available below.
COMPLETE GALLERY