Join the PITI-VITI Team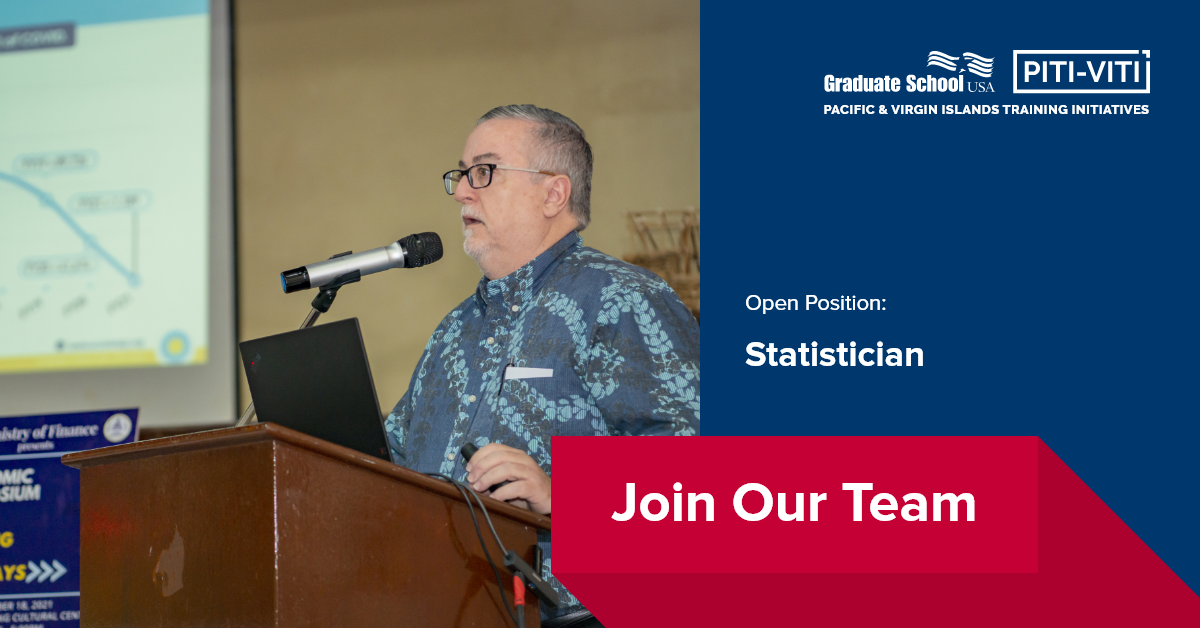 Open Position: PITI-VITI EconMAP Statistician
In search of an experienced statistician to join the Economic Monitoring and Analysis Program (EconMAP) team which supports the Federated States of Micronesia, the Republic of the Marshall Islands, and the Republic of Palau. EconMAP monitors economic performance and assists each Pacific island country with annual comprehensive updates of fiscal and economic statistics and prepares Economic Reviews, Briefs, and Issue Papers. This work is supported by the U.S. Department of the Interior, with supplemental funding from the Asian Development Bank and the World Bank. The four-year position for Statistical Development requires close, hands-on work and collaboration with Statistical Offices and other Ministries and Departments of the three governments. In addition to the maintenance of an existing statistical program and the continuation of on-going reporting, there will be opportunities to develop new data regarding migration, remittances, foreign direct investment, and small businesses. EconMAP team members regularly deliver technical presentations to inform policy deliberations throughout the region.
Additional position and application information is available at https://pitiviti.org/econmap-statistician.
About the PITI-VITI Program
The Graduate School USA's Pacific & Virgin Islands Training Initiatives (PITI-VITI) is always looking for exceptional individuals to join our team and enhance our work. If you're an energetic and motivated person in search of a rewarding career you'll love, review our open positions below. Our unique work supports the U.S. Affilliated Insular Areas, focusing on public finance, auditing, and economics. We work in a collaborative, team-inspired environment. Our full-time staff are based in Honolulu, Hawaii, but our team of faculty, instructors, and subject matter experts are based throughout the United States (and abroad.)
If you are a trainer, consultant or subject matter expert interested in joining our vibrant and growing team focused on serving the insular governments, please send a resume and cover letter to

[email protected]

.