Palau Economic Advisory Group
The Palau Economic Advisory Group will soon convene for its second year of support to Palau, beginning with its second meeting in Palau from August 23-29, following 2 days of meetings in Honolulu, Hawaii, enabling meetings with Palauan citizens on Oahu and with University of Hawaii officials with program and project interests in Palau. The mandate for the EAG was included in the Compact Section 432 Review Agreement (CRA) that was signed on 3 September 2010. The relevant US Congressional action to authorize and appropriate funding was delayed until FY2018 when the CRA was fully funded. Palau benefited from stopgap funding during the waiting period, but the convening of the Economic Advisory Group was delayed.
The US and Palau governments have agreed to implement the EAG as fully described in the CRA and specifically in sections 2(d) - 2(g). The five members have been named in time for their first meeting. Excerpts from the CRA are provided below:
"The purpose of the Palau Economic Advisory Group is to contribute to the long-term economic sustainability of Palau by recommending economic, financial, and management reforms. The Advisory Group shall be composed of five (5) members, two (2) of whom shall be designated by the President of Palau and two (2) of whom shall be designated by the Government of the United States, the fifth of whom shall be chosen by the Government of the United States from a list of not fewer than three (3) persons not residents of Palau submitted by the President of Palau.
… The [EAG] shall recommend economic, financial and management reforms and the schedule on which the reforms should be implemented. The [EAG] shall report annually not less than thirty (30) days prior to the annual bi-lateral economic consultations to be held on or about June 1 every year on the Government of Palau's progress in implementing reforms recommended by the [EAG] or other reforms taken by the Government of Palau. The two governments are committed to these annual economic consultations being meaningful, substantive, and comprehensive."
Members look forward to their second visit to Palau to listen and learn and to share their emerging insights widely with leadership and civil society. Given the impressive breadth and depth of the members' combined professional accomplishments, their first annual report, issued in April 2023, has been well-received by the two governments. Their report was timely delivered in advance of a June 2023 bi-lateral annual economic consultation and served the intended purpose of informing the bi-lateral Palau-United States discussions.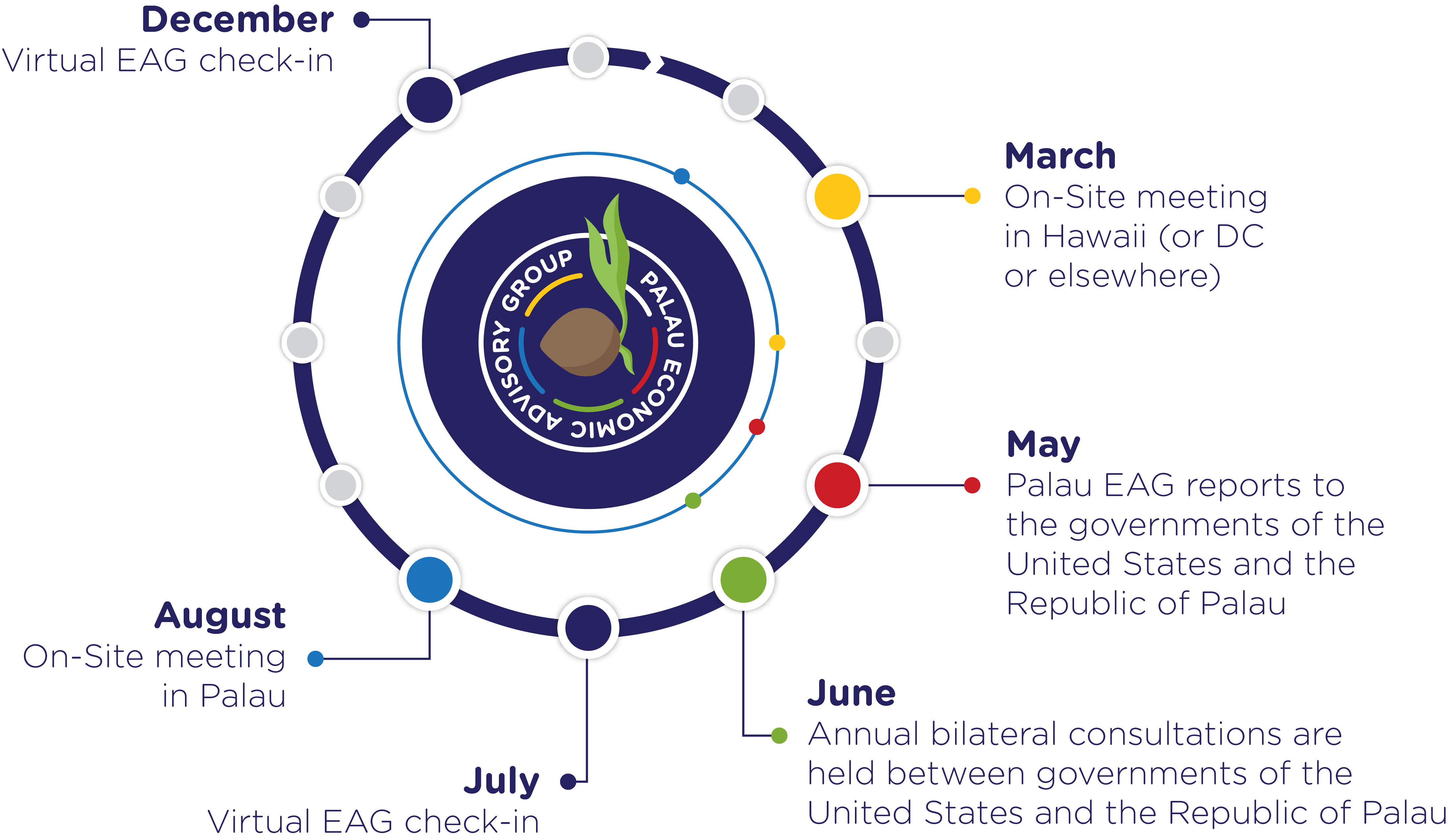 As requested by the Palau Government, the U.S. Government through the Department of the Interior's Office of Insular Affairs, has provided limited funding for a Secretariat to provide administrative support to the Palau Economic Advisory Group. The Graduate School USA is providing that service through its Economic Monitoring and Analysis Program (EconMAP).