Magdalene Petaia
American Samoa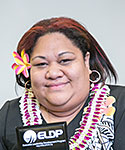 Updated December 05, 2022
Magdalene (Lina) Petaia is employed by the American Samoa Government (ASG) Department of Commerce as the Community Development Block Grant (CDBG) Manager. Lina manages the daily operation of the CDBG program which is funded by the U.S. Department of Housing and Urban Development. The program manages funds that are distributed to various projects that support American Samoa's economic growth by creating employment opportunities, providing decent housing and forming a suitable living environment. Lina supervises a CDBG team of five and is responsible for overseeing the programmatic and financial aspects of all projects by monitoring performance, financial expenditures and local government reimbursements, timeliness, effectiveness and the fiscal eligibility of all payment requests. In her capacity, Lina works closely with most ASG departments in ensuring that projects are implemented and carried out efficiently. Through her leadership and commitment, many homes have been upgraded and several projects that benefit the community exist. Prior to this, Lina has had the opportunity to work in various positions that dealt with other federal grants, federal and local legislative branches, education, and with family businesses.
Lina received a Bachelor of Arts degree in Political Science and Communications from the University of Hawaii at Hilo in 2004 and a Masters of Science Administration in Organizational Management with an emphasis in Human Resources Management in 2007 from Trinity Washington University in Washington, DC. She has been accepted to Argosy University's Doctorate in Organizational Leadership program, which she plans to begin this year. In April 2014, Lina was bestowed the chief title of Ali'imuamua from the village of Sa'anapu. She is married to Taulua Suisala Jr. and they have one daughter, Doralei.
PITI-VITI Newsroom
NEWSROOM

topics:
Nov 02, 2023
Monique
With support from the Department of the Interior - Office of Insular Affairs, the Pacific and Virgin Islands (PITI-VITI) successfully held grant training in American Samoa from October 24 to October 30, 2023.
More Info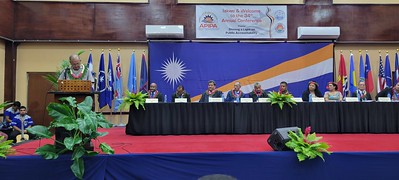 topics:
Sep 05, 2023
Monique
The Association of Pacific Islands Public Auditors (APIPA) successfully concluded its 34th Annual Conference, held from August 28 to September 1, 2023, in Majuro, Republic of the Marshall Islands. This year's conference, funded by the Department of the Interior's Office of Insular Affairs, marked...
More Info
Photo Gallery
Photos from recent activities hosted by the Pacific and Virgin Islands Training Initiatives (PITI-VITI) in support of conferences, training and leadership development, are available below.
COMPLETE GALLERY