Donna Lanej
RMI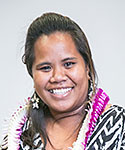 Updated September 27, 2021
Donna Lanej started her teaching career at Kwajalein Atoll High School in 2008. In 2013 Donna was promoted to principal of Kwajalein Atoll High School which is the only public high school on the atoll of Kwajalein, Republic of Marshall Islands. Kwajalein Atoll High School caters to students from seven different islands including Ebeye.
Kwajalein Atoll High School serves a large number of students. This year's enrollment is approximately 420 students and this number continues to increase every year. Donna supervises 26 staff and faculty and ensures that students receive the education that is required by the Ministry of Education. Donna is also responsible for the school's finances by making sure the school follows the regulations in the way they use money from various donors. Donna also ensures that the needs of the staff and students are met. Recently, Donna implemented the school's first senior practicum for the students in the senior class. This program gives each student an idea of the jobs that are in the community.
Although this is Donna's first year as the principal of Kwajalein Atoll High School, she continuously looks for opportunities to sharpen her skills as a leader in the school.
Photo Gallery
Photos from recent activities hosted by the Pacific and Virgin Islands Training Initiatives (PITI-VITI) in support of conferences, training and leadership development, are available below.
COMPLETE GALLERY