Laurence Edwards, II
RMI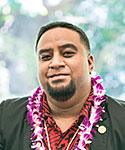 Updated December 05, 2022
Laurence Edwards currently serves as the Legal Advisor to the Board and Executive Management of the Marshall Islands Marine Resources Authority ('MIMRA'). In this capacity, Laurence answers to the Executive Director, alongside with two (2) other Deputy Directors (one for Oceanic and Industrial Affairs Division and the other for Coastal Division) of MIMRA, dealing with legal matters. Laurence is responsible for the legal representation of MIMRA in court proceedings, negotiations with opposing parties via out of court settlements and rendering legal interpretations of the national laws to MIMRA seeking legal advice. Moreover, Laurence is also responsible for reviewing and drafting legal documents (e.g. domestic and foreign access arrangements; Contracts; Compliance Reports; Standard Operating Procedures, etc.), conducting administrative proceedings pertaining to fishing vessels committing fisheries violations, and providing in-house trainings on enforcement and compliance mechanisms with authorized officers of MIMRA from both Oceanic and Coastal Divisions. Prior to working with MIMRA, Laurence was admitted to the RMI Bar in May, 2011 and was an Assistant Attorney General at the RMI Office of the Attorney General at the Ministry of Justice, Immigration and Labor. Before becoming a full-fledged attorney, Laurence was a legal assistant to the Attorney General in legal research and drafting court documents for the Prosecutors in the Attorney General's Office for two (2) years. He was also tasked to office management to assist the workflow of the administrative staff members in implementing a policy to the workflow of other Assistant Attorney Generals. Laurence attended the undergraduate law program at the University of the South Pacific-School of Law in Port Vila, Vanuatu and recently completed his Masters of Law, specializing in Environmental Law, at the Australian National University. Laurence has a committed work ethic and supports the mandate of MIMRA, which is to conserve and manage marine resources sustainably for the benefit of the Government and People of the RMI.
PITI-VITI Newsroom
NEWSROOM

topics:
Nov 02, 2023
Monique
With support from the Department of the Interior - Office of Insular Affairs, the Pacific and Virgin Islands (PITI-VITI) successfully held grant training in American Samoa from October 24 to October 30, 2023.
More Info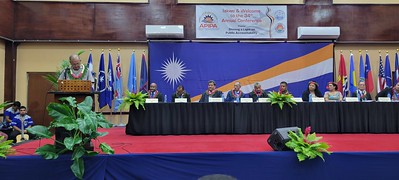 topics:
Sep 05, 2023
Monique
The Association of Pacific Islands Public Auditors (APIPA) successfully concluded its 34th Annual Conference, held from August 28 to September 1, 2023, in Majuro, Republic of the Marshall Islands. This year's conference, funded by the Department of the Interior's Office of Insular Affairs, marked...
More Info
Photo Gallery
Photos from recent activities hosted by the Pacific and Virgin Islands Training Initiatives (PITI-VITI) in support of conferences, training and leadership development, are available below.
COMPLETE GALLERY