Rodalyn May A. Gerardo
Guam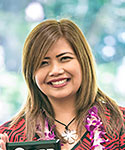 Updated December 05, 2022
Rodalyn May A. Gerardo began her audit career in 2002 as one of the Office of Public Accountability's (OPA) first interns while completing her last semester at the University of Guam (UOG). OPA hired her as a staff auditor in January 2003. Throughout the years, she successfully climbed OPA ranks, from Auditor I, Auditor II, Auditor III, Chief Auditor / Audit Supervisor, and Special Assistant / Audit Supervisor.
Rodalyn has been a part of OPA's management team since 2009 and supervises OPA staff in all aspects of the office: performance audits, financial audit oversight, procurement appeals, and administrative matters.
Rodalyn's interest in technology has earned her a role as one of OPA's TeamMate champions, and was instrumental in the successful implementation of the automated audit management software in 2015. She also oversees OPA's IT Committee and Legislative Mandates Committee.
Rodalyn holds six professional designations: Certified Public Accountant (CPA), Certified Internal Auditor (CIA), Certified Government Financial Manager (CGFM), Certified Government Auditing Professional (CGAP), Chartered Global Management Accountant (CGMA), and Certified Internal Control Auditor (CICA). She is a member of the Association of Government Accountants (AGA), American Institute of Certified Public Accountants (AICPA), Institute of Internal Auditors (IIA), Guam Society of Certified Public Accountants (GSCPA), and Institute for Internal Controls (IIC).
Rodalyn has served in several leadership positions in AGA, from the officer positions of Treasurer, President-Elect, and President, to Education Committee chairperson and co-chairperson of various subcommittees. Under her leadership, the Guam Chapter was awarded the coveted Chapter Platinum Award while she was President and the Education Award while she was Education Director. Since 2008, she has served as the chairperson of the AGA Guam Chapter's biennial Guam Professional Development Conference (GPDC). Rodalyn has also served as a Regional Vice President for the Pacific Rim and as a member of the AGA National Nominating Committee. She is currently the Education Committee Director and GPDC Chairperson for program year 2017-2018.
In late 2015, Rodalyn was selected as one of just 38 young CPAs nationwide to attend the 7th AICPA Leadership Academy in Chapel Hill, North Carolina. The Leadership Academy is an exclusive group of rising stars in the accounting profession, all under age 36, and selected from more than 100 candidates recommended by their employers, state societies of CPAs, etc.
In 2016, Rodalyn attended the Leadership Challenge Workshop in Orlando, Florida and was certified to facilitate the program.
Rodalyn was awarded a four-year, full-tuition Guam Women's Club Scholarship for her undergraduate studies at UOG through 2002. She then graduated summa cum laude with a Bachelor's of Business Administration – Accounting degree in December 2002. Rodalyn is continuing her education and is enrolled in a Master's of Business Administration - Accounting program at Mississippi College. She is expected to graduate in late 2019.
Rodalyn is the eldest of four children and the only daughter of Roger and Soledad Gerardo. Her pride, joy, and loves of her life are her two children, Theone Jay and Gabriella May.
PITI-VITI Newsroom
NEWSROOM

topics:
Nov 02, 2023
Monique
With support from the Department of the Interior - Office of Insular Affairs, the Pacific and Virgin Islands (PITI-VITI) successfully held grant training in American Samoa from October 24 to October 30, 2023.
More Info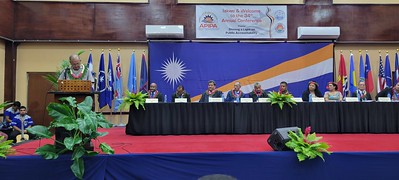 topics:
Sep 05, 2023
Monique
The Association of Pacific Islands Public Auditors (APIPA) successfully concluded its 34th Annual Conference, held from August 28 to September 1, 2023, in Majuro, Republic of the Marshall Islands. This year's conference, funded by the Department of the Interior's Office of Insular Affairs, marked...
More Info
Photo Gallery
Photos from recent activities hosted by the Pacific and Virgin Islands Training Initiatives (PITI-VITI) in support of conferences, training and leadership development, are available below.
COMPLETE GALLERY