Shawn Scott
Guam
Updated December 05, 2022
Shawn is an Accounting Technician II with the Federal Grants/Single Audit and Compliance Branch of the Government of Guam's Department of Administration. Shawn has been with the Government of Guam for over three years, which included a short stint with Guam's General Services Agency as a Buyer II before transferring to the Department of Administration. Shawn brought seven years of private sector management experience to Guam's Department of Administration which was acquired mainly through managing a 30,000 square foot entertainment facility, which included food and beverage operations. During his time in the private sector, Shawn was fortunate to gain experience in beverage management as well as shouldering the responsibility of career development and on-going training for all of his staff. Through running daily operations in a faced paced and ever changing business driven by the tourist industry, Shawn developed a solid well-rounded understanding of business management. With the Federal Grants Branch, Shawn assists his team in maintaining federal grants for government agencies, processing Journal Vouchers, Direct Payments, Federal Drawdown Requests, as well as providing support to all other sections within the Department as needed. Shawn always strives to better himself and always welcomes learning new skills. He attended college at the University of Guam, Cypress College, and Seattle Community College. When not at work, Shawn enjoys spending time with his family as well as playing the guitar.
PITI-VITI Newsroom
NEWSROOM

topics:
Nov 02, 2023
Monique
With support from the Department of the Interior - Office of Insular Affairs, the Pacific and Virgin Islands (PITI-VITI) successfully held grant training in American Samoa from October 24 to October 30, 2023.
More Info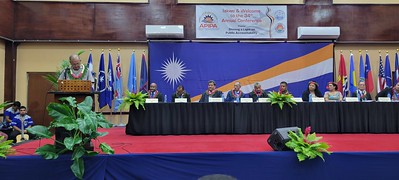 topics:
Sep 05, 2023
Monique
The Association of Pacific Islands Public Auditors (APIPA) successfully concluded its 34th Annual Conference, held from August 28 to September 1, 2023, in Majuro, Republic of the Marshall Islands. This year's conference, funded by the Department of the Interior's Office of Insular Affairs, marked...
More Info
Photo Gallery
Photos from recent activities hosted by the Pacific and Virgin Islands Training Initiatives (PITI-VITI) in support of conferences, training and leadership development, are available below.
COMPLETE GALLERY