Anise Hodge
USVI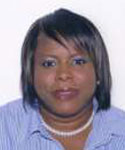 Updated September 18, 2021
Anise I. Hodge is a Senior Budget Analyst at the U.S. Virgin Islands Office of Management and Budget (OMB). She has worked at OMB for eighteen years and is a senior member of a team of eight individuals responsible for preparing the annual Executive Budget, performing financial analyses, preparing revenue projections, consulting with department/agency heads and fiscal personnel on proper budgetary procedures, managing their appropriations, and implementing performance based budgeting. Anise's duties also include providing legislative analyses and recommendations to the Governor and Budget Director, and conducting site visits to offer advice and solutions to department/agency problems within the scope of the Office of Management and Budget. Anise is OMB's liaison for five central government departments/agencies, the University of the Virgin Islands, the Waste Management Authority, and the Virgin Islands Water and Power Authority. Currently, Anise is working with other team members on implementing a government wide Performance Management program, and is on a Governor's Task Force for the implementation of a Household Hazardous Waste Collection Program for residential and governmental entities.
Anise attended Hampton University where she received a Bachelor of Arts degree in Political Science and Syracuse University's Maxwell School for Citizenship and Public Affairs where she obtained a Masters in Public Administration.
Photo Gallery
Photos from recent activities hosted by the Pacific and Virgin Islands Training Initiatives (PITI-VITI) in support of conferences, training and leadership development, are available below.
COMPLETE GALLERY