Alicia Bastien
USVI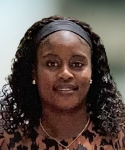 Updated September 22, 2022
Alicia A. Bastien has been employed at the Office of the Virgin Islands Inspector General since January 2016. As an Auditor, she is responsible for conducting thorough research work in preparation for planning and conducting important segments of an audit. Ms. Bastien also analyzes data, prepares financial schedules, develops audit findings, and participates in conferences and meetings with government officials to present findings. Previously, Ms. Bastien was employed in the banking industry in the private sector.
Ms. Bastien holds a Master's in Accounting from the University of Scranton and a Bachelor's degree in Accounting with a concentration in Auditing and Forensic Accounting from Kaplan University. Ms. Bastien is a Certified Fraud Examiner (CFE) from the Association of Certified Fraud Examiners and a member of Beta Gamma Sigma, the International Business Honor Society.
 
NEXT
Photo Gallery
Photos from recent activities hosted by the Pacific and Virgin Islands Training Initiatives (PITI-VITI) in support of conferences, training and leadership development, are available below.
COMPLETE GALLERY