Esther Felix Donelly
USVI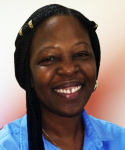 Updated September 16, 2022
Esther Felix Donelly's career began in 1991 as an Accountant within the Department of Labor. As the accountant, she managed the General Funds, Workers Compensation funds and the Occupational Safety and Health funds. Her duties included reconciling expenses, processing payments, submitting claims for federal reimbursement and supervising.

In 2000, Mrs. Donelly was promoted to Departmental Budget Control Officer within the Department of Property and Procurement. In this position, she managed the General funds, process personnel documents, completed payroll, handled collections and deposits generated from leases, auctions, sales etc.These experiences in the Executive Branch of Government prepared Mrs. Donelly for her new role as the Fiscal and Personnel Manager within the Public Employees Relations Board. In this capacity, she oversees the fiscal and personnel functions; which includes managing a budget of over one million dollars, maintaining the inventory and facilities, preparing all documents relating to personnel and payroll; and supervising two employees.

Mrs. Donelly also completed her Master's in Business Administration at the University of the Virgin Islands in 1995.
Photo Gallery
Photos from recent activities hosted by the Pacific and Virgin Islands Training Initiatives (PITI-VITI) in support of conferences, training and leadership development, are available below.
COMPLETE GALLERY