Ayako Yamaguchi-Eliou
RMI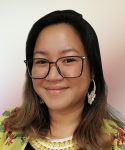 Updated September 16, 2022
Ayako Yamaguchi-Eliou is a National Consultant with the Reform Coordination Unit in the Ministry of Finance, Republic of the Marshall Islands. Her focus is on Public Financial Management (PFM) reform, specifically on budgeting. In her role as a National Consultant, she provides capacity building and performance improvement to local staff to further institutionalize PFM reforms. Prior to joining the Ministry of Finance, Ayako served as the Performance Audit Manager from 2015 to 2018 in the Office of the Auditor-General.
Ms. Yamaguchi-Eliou graduated from the University of Hawaii at Hilo, with a degree in Business Administration. She returned home after graduating from college in 2012 and began her career, first as a Performance Based Budgeting Coordinator, and later as a Performance Improvement Manager, at the Ministry of Health.
Photo Gallery
Photos from recent activities hosted by the Pacific and Virgin Islands Training Initiatives (PITI-VITI) in support of conferences, training and leadership development, are available below.
COMPLETE GALLERY