Christopher Concepcion
CNMI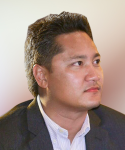 Updated September 16, 2022
Christopher A. Concepcion is the Deputy Director of the Office of Planning & Development (OPD), Office of the Governor, Commonwealth of the Northern Mariana Islands (CNMI). He assumed his position in June 2019.
As Deputy Director, Chris works with his team to establish Comprehensive Sustainable Development Plans with public and private entities that serve as a guide for future long-term development in the CNMI. The OPD acts as the clearinghouse for all information related to development, planning and resource use in the Commonwealth.
In 2006, Chris began his career in the travel industry with Delta Air Lines. He managed all sales and marketing activities and government affairs for Delta in the CNMI and the Republic of Palau. In 2010, during Chris's tenure, Delta launched the first regular scheduled flights between Japan and Palau. In 2015, Chris was awarded the prestigious Platinum Circle Award for being in the top 5% of revenue producers for Delta worldwide. He remained with Delta until April 2016.
In April 2016, Chris was appointed the Managing Director of the Marianas Visitors Authority, the National Tourism Office for the Northern Mariana Islands. As Managing Director, Chris managed a team of industry professionals in Saipan, Tinian and Rota, and oversaw international representative offices in Japan, South Korea, China, Russia and Taiwan. He remained with the Authority until April 2019.
Chris has held various leadership positions in the Commonwealth and has served on several boards and commissions including the Commonwealth Utilities Corporation Board of Directors, CNMI Scholarship Board of Directors, CNMI Museum of History and Culture Board of Directors, and the Saipan Chamber of Commerce Board of Directors where he also served as Vice President in 2013. He received the Saipan Chamber of Commerce's Young Professional of the Year Award and was featured in the "40 Under 40" top young professionals list by Guam Business Magazine in 2015. He has served as a member of the Governor's Strategic Economic Development Council, Hotel Association of the Northern Mariana Islands, the Garapan Revitalization Task Force, the Marianas March Against Cancer Steering Committee and the Marianas Tourism Education Council. Chris is a member of the inaugural 2014 Pacific Century Fellows Program -- Marianas Chapter, a leadership development program modeled after the Pacific Century Fellows of Hawaii.
Chris attended the University of Idaho where he earned a bachelor's degree in Political Science. He enjoys traveling and scuba diving. He lives in Saipan with his wife, Natsu.
Photo Gallery
Photos from recent activities hosted by the Pacific and Virgin Islands Training Initiatives (PITI-VITI) in support of conferences, training and leadership development, are available below.
COMPLETE GALLERY