Patricia Coleman
CNMI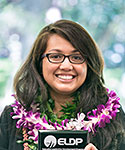 Updated December 05, 2022
Patricia Coleman serves as Program Leader of the Nutrition and Health Programs at the Northern Marianas College Cooperative Research, Extension, and Education Services (NMC CREES) where she leads research and extension projects that are the first-of-its-kind for the Northern Mariana Islands. Her work has provided valuable insights and information that have been used to guide programmatic and policy development in the Northern Mariana Islands (NMI). Under Patricia's leadership, the World Health Organization selected the Northern Mariana Islands from among 22 countries to receive the "2015-2017 Healthy Islands: Health-In-All Policies Award" for the project, "Children's Healthy Living Program: TASA Role Models". Patricia credits the award to the unrelenting teamwork and dedication of the diverse group of people involved with the project. Additionally, Patricia has served as a mentor to undergraduate students for the National Institutes of Health Short-Term Experience for Underrepresented Persons and the Child Health Assessment in the Pacific Fellowship. She also co-authored several scholarly publications. In 2016, she was selected as the Non-Instructional Faculty Member of the Year. Patricia obtained her bachelor's degree from Northern Marianas College and is in the final phase of a Master of Public Health degree at the University of Alaska Anchorage. She has a certificate from the Johns Hopkins University Graduate Institute of Biostatistics and Epidemiology. Patricia also serves the community in her roles as a Northern Mariana Islands Football Association Executive Committee Member and Vice- Chair of the NMI Non-Communicable Disease Alliance.
PITI-VITI Newsroom
NEWSROOM

topics:
Nov 02, 2023
Monique
With support from the Department of the Interior - Office of Insular Affairs, the Pacific and Virgin Islands (PITI-VITI) successfully held grant training in American Samoa from October 24 to October 30, 2023.
More Info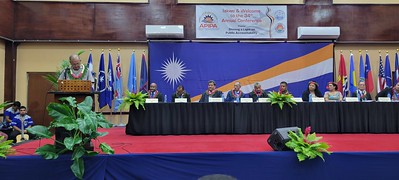 topics:
Sep 05, 2023
Monique
The Association of Pacific Islands Public Auditors (APIPA) successfully concluded its 34th Annual Conference, held from August 28 to September 1, 2023, in Majuro, Republic of the Marshall Islands. This year's conference, funded by the Department of the Interior's Office of Insular Affairs, marked...
More Info
Photo Gallery
Photos from recent activities hosted by the Pacific and Virgin Islands Training Initiatives (PITI-VITI) in support of conferences, training and leadership development, are available below.
COMPLETE GALLERY