Isabela Silk
RMI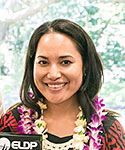 Updated September 27, 2021
lsabela Silk is the Director for the Office of Compact Implementation at the Ministry of Foreign Affairs & Trade in the Republic of the Marshall Islands. Her position includes overall responsibility for all matters related to the Compact of Free Association with the United States. This includes reviewing Compact Sectors' performance, budget strategies, Compact legal affairs, and the implementation of the national foreign policy. Prior to joining the Compact Office, she was a Foreign Service Officer at the Bureau of U.S. Affairs where she analyzed political, social, security, trade and investment issues that affect or are of interest to the Republic of the Marshall Islands.
lsabela holds a B.A. in Political Science and Administration of Justice from the University of Hawaii at Hilo.
Photo Gallery
Photos from recent activities hosted by the Pacific and Virgin Islands Training Initiatives (PITI-VITI) in support of conferences, training and leadership development, are available below.
COMPLETE GALLERY