Anjanette Kattil
RMI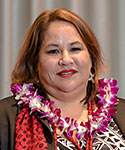 Updated September 27, 2021
Anjanette currently serves as the Assistant Secretary for the Bureau of Bilateral Affairs within the Ministry of Foreign Affairs of the Republic of the Marshall Islands. In this capacity, Anjanette holds supervisory responsibility over two Foreign Service Officers. She reports directly to the Secretary of Foreign Affairs. Anjanette deals with the Republic's 83 diplomatic allies, at both the bilateral and regional levels. She is tasked with analyzing bilateral and regional political, security, economic, educational, social and cultural issues and provides policy advice and recommendations to the Secretary of Foreign Affairs. Additionally,
Anjanette serves as the Ministry's senior advisor to the Secretary and Minister on bilateral and regional matters and issues relating to security, economic, social, and political considerations, and other issues ranging from bilateral trade, agriculture, aviation, investment, etc., and has the added responsibility of maintaining and strengthening cordial relations with RMI's bilateral partners.
Anjanette studied business management at Brigham Young University in Hawaii, and Weber State University in Utah.
Photo Gallery
Photos from recent activities hosted by the Pacific and Virgin Islands Training Initiatives (PITI-VITI) in support of conferences, training and leadership development, are available below.
COMPLETE GALLERY