Lover Haimin
FSM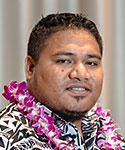 Updated December 05, 2022
Lover Haimin comes from the tiny island of Ta in the Mortlocks region of Chuuk State in the Federated States of Micronesia. Currently, he serves as the Human Resources (HR) and Facilities Manager at Federated States of Micronesia Development Bank (FSMDB). In this capacity, Lover assists the President/CEO of the Bank to implement the administrative and personnel policies and procedures pertaining to employees and facilities to ensure that the objectives of the bank are accomplished efficiently and effectively. Prior to joining the bank, Lover was with the FSM National Government Office of the National Public Auditor (ONPA) in Palikir, Pohnpei, as Administrative Assistant and Officer, and then as an Auditor.
Lover earned his Bachelor of Arts degree in Management and Public Administration with a minor in History and Politics from the University of the South Pacific in Fiji. Lover also studied and earned a two-year degree at the College of Micronesia-FSM, Palikir in Micronesian Studies.
PITI-VITI Newsroom
NEWSROOM

topics:
Nov 02, 2023
Monique
With support from the Department of the Interior - Office of Insular Affairs, the Pacific and Virgin Islands (PITI-VITI) successfully held grant training in American Samoa from October 24 to October 30, 2023.
More Info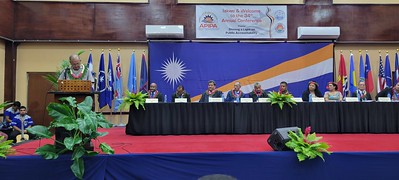 topics:
Sep 05, 2023
Monique
The Association of Pacific Islands Public Auditors (APIPA) successfully concluded its 34th Annual Conference, held from August 28 to September 1, 2023, in Majuro, Republic of the Marshall Islands. This year's conference, funded by the Department of the Interior's Office of Insular Affairs, marked...
More Info
Photo Gallery
Photos from recent activities hosted by the Pacific and Virgin Islands Training Initiatives (PITI-VITI) in support of conferences, training and leadership development, are available below.
COMPLETE GALLERY