Jewel Tuiasosopo
American Samoa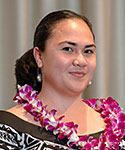 Updated July 27, 2023
Jewel Tuiasosopo serves as the Water Quality Branch Chief for the American Samoa Environmental Protection Agency (AS-EPA). Jewel supervises one environmental specialist whom she works closely with to ensure that all surface waters in American Samoa are in compliance with the American Samoa Water Quality Standards. In this capacity, she performs a wide range of technical tasks in the multifaceted Water Quality Branch, including all Non-Point Source Pollution Program activities, site inspections, compliance determinations, nearshore and surface water data analysis, regulatory enforcement, and grant reporting to the United States Environmental Protection Agency (USEPA). Jewel also works closely with the USEPA to monitor facilities with National Pollutant Discharge Elimination System (NPDES) permits. In addition, Jewel represented AS-EPA on the Project Notification Review System (PNRS) Board to review land use applications and ensures that all projects are in compliance with AS-EPA regulations. She also serves as the Treasurer of the American Samoa Soil and Water Conservation District. In the past two years alone, Jewel has been instrumental in reviving AS-EPA's Water Quality Branch.
Prior to working for the American Samoa Government, Jewel served as an enlisted member of the United States Air Force Reserve as a Health Services Management Journeyman. Recently, Jewel committed herself as a member of Pacific Global Citizens, which is a grassroots organization that identifies solutions to local issues through volunteerism. She has received various trainings related to the Clean Water Act and has represented AS-EPA at numerous conferences.
Jewel received a Bachelor of Science degree in Environmental Studies from Chaminade University of Honolulu in 2010 and a Masters of Science degree in Environmental Science Management from Southern Illinois University Edwardsville in 2012.
PITI-VITI Newsroom
NEWSROOM

topics:
Nov 02, 2023
Monique
With support from the Department of the Interior - Office of Insular Affairs, the Pacific and Virgin Islands (PITI-VITI) successfully held grant training in American Samoa from October 24 to October 30, 2023.
More Info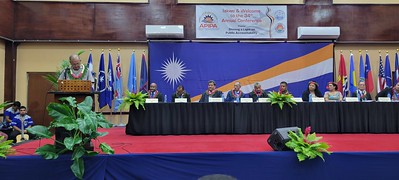 topics:
Sep 05, 2023
Monique
The Association of Pacific Islands Public Auditors (APIPA) successfully concluded its 34th Annual Conference, held from August 28 to September 1, 2023, in Majuro, Republic of the Marshall Islands. This year's conference, funded by the Department of the Interior's Office of Insular Affairs, marked...
More Info
Photo Gallery
Photos from recent activities hosted by the Pacific and Virgin Islands Training Initiatives (PITI-VITI) in support of conferences, training and leadership development, are available below.
COMPLETE GALLERY