Junior Paul
RMI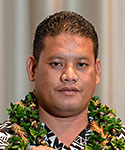 Updated September 27, 2021
Junior currently serves as an Associate Commissioner for Secondary and Career Education for the Republic of the Marshall Islands Ministry of Education. Junior is responsible for all 5 public high schools in the country, as well as an academy school called "Life Skills Academy." Junior has served as an elementary school teacher, vice principal, and principal of Marshall Islands High School, which is the largest high school in the country with growing enrollment numbers.
Junior was born and raised in the outer islands of the Marshalls. Junior moved to Majuro to attend Marshall Islands High School, and then attended the College of the Marshall Islands, where he studied Business Administration. Junior spent six years teaching at Delap Elementary School before attending BYU-Hawaii for his Bachelor's of Science in Elementary Education. In 2015, Junior graduated from the University of the South Pacific with a Master's of Education.
Photo Gallery
Photos from recent activities hosted by the Pacific and Virgin Islands Training Initiatives (PITI-VITI) in support of conferences, training and leadership development, are available below.
COMPLETE GALLERY