Samuel Lanwi, Jr.
RMI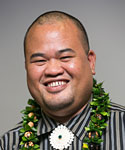 Updated September 27, 2021
Sam currently serves as the Deputy Director for the Oceanic & Industrial Affairs division within the Marshall Islands Marine Resources Authority (MIMRA), under the Ministry of Resources & Development (R&D) in the Republic of the Marshall Islands. Sam oversees a team of nine employees responsible for administering foreign, locally-based, and domestic fishing licenses issued under various fishing access agreements and regulated by law. In addition, Sam is responsible for ensuring timely collection of oceanic fisheries data through the maintenance of a fisheries database that captures fishing vessel details and catch data. Prior to this position, Sam worked with the RMI Ministry of Foreign Affairs in Honolulu, New York and Tokyo, Japan. Sam graduated from Xavier High School and attended the University of Scranton in northeastern Pennsylvania, where he double-majored in Political Science and History. Sam believes he can further contribute to the well-being of the people and Government of the RMI through his effective participation in the ELDP course.
Photo Gallery
Photos from recent activities hosted by the Pacific and Virgin Islands Training Initiatives (PITI-VITI) in support of conferences, training and leadership development, are available below.
COMPLETE GALLERY