Mitaro Simina
Pohnpei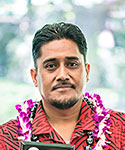 Updated December 05, 2022
Mitaro I. Simina is the Assistant Principal of PICS High School in Pohnpei State.  He is originally from the Mortlocks in Chuuk State, FSM.  In his current role, he assists the principal in observing, evaluating and working through personnel issues with staff/teachers; builds schedules, teacher assignments and recruits substitute teachers; assists staff with instructional techniques, classroom management and curricular issues; and works with school staff to research, plan and implement school reform initiatives.  In addition, he supervises out of school activities; promotes student involvement in school activities, such as student advisors, student council, clubs and other extra-curriculars; and organizes assemblies and special events.
Prior to his current role, he was a primary school principal for more than six months and a classroom teacher for more than 8 years.
Mr. Simina also served his election district as a councilman for 4 years from November 2011 to November 2015. He was the delegation chairman and vice-chairman on the committee of Health, Education and Social Affairs. He worked with other representatives from the other districts to legislate laws that would ensure and enhance economic development and good governance to all communities in Pohnpei State Government.
Mitaro graduated with a Master of Arts in Educational Leadership in 2013, and a Bachelor of Liberal Arts and Science Interdisciplinary Studies in 2010 from San Diego State University. He earned an Associate of Arts degree from the College of Micronesia in 2001.
PITI-VITI Newsroom
NEWSROOM

topics:
Nov 02, 2023
Monique
With support from the Department of the Interior - Office of Insular Affairs, the Pacific and Virgin Islands (PITI-VITI) successfully held grant training in American Samoa from October 24 to October 30, 2023.
More Info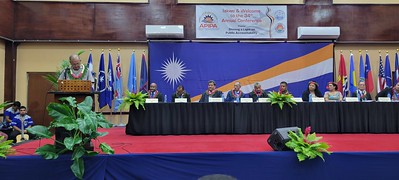 topics:
Sep 05, 2023
Monique
The Association of Pacific Islands Public Auditors (APIPA) successfully concluded its 34th Annual Conference, held from August 28 to September 1, 2023, in Majuro, Republic of the Marshall Islands. This year's conference, funded by the Department of the Interior's Office of Insular Affairs, marked...
More Info
Photo Gallery
Photos from recent activities hosted by the Pacific and Virgin Islands Training Initiatives (PITI-VITI) in support of conferences, training and leadership development, are available below.
COMPLETE GALLERY