Alpino Kerman
Pohnpei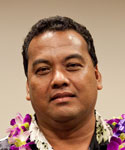 Updated December 05, 2022
Alpino Kerman serves as the Budget Officer for Pohnpei State, Federated States of Micronesia. Alpino manages a staff of five employees that are responsible for the preparation and implementation of Pohnpei State's annual operating budget. This is accomplished by taking the lead in the process of communicating the requirement of the annual budget, consolidating the proposals submitted by the three branches of the Pohnpei State Government including the Office of the Public Auditor and the Local Governments, and organizing and managing the successful accomplishments of all the required budget hearings with appropriate executive and legislative committees. As the Pohnpei State Budget Officer, Alpino controls the implementation of the approved annual budget through the process of budget allotment and budget certification. Prior to serving as Budget office, Alpino spent three years working as the Fiscal Officer for the Pohnpei Department of Education. From 2001 - 2005, Alpino was the Fiscal Manager for Pohnpei Family Head Start Program, Inc. Previous to his employment with Head Start, Alpino was the Pohnpei Public Auditor from 1997-200. In 1984 after graduating from the Community College of Micronesia with an Associates Degree in Business Administration, Alpino spent two years at the Bank of Guam's Pohnpei Branch before accepting another banking position at the Bank of the Federated States of Micronesia, a newly created commercial bank of the Federation and the only US FDIC insured foreign bank. Alpino is married with four children.
PITI-VITI Newsroom
NEWSROOM

topics:
Nov 02, 2023
Monique
With support from the Department of the Interior - Office of Insular Affairs, the Pacific and Virgin Islands (PITI-VITI) successfully held grant training in American Samoa from October 24 to October 30, 2023.
More Info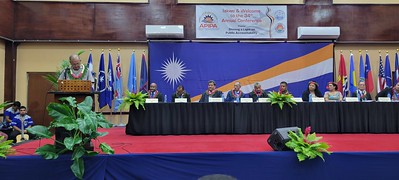 topics:
Sep 05, 2023
Monique
The Association of Pacific Islands Public Auditors (APIPA) successfully concluded its 34th Annual Conference, held from August 28 to September 1, 2023, in Majuro, Republic of the Marshall Islands. This year's conference, funded by the Department of the Interior's Office of Insular Affairs, marked...
More Info
Photo Gallery
Photos from recent activities hosted by the Pacific and Virgin Islands Training Initiatives (PITI-VITI) in support of conferences, training and leadership development, are available below.
COMPLETE GALLERY