Eleanor Samuel Mori
Chuuk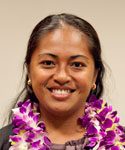 Updated September 27, 2021
Eleanor works for the Chuuk State Department of Health Services as the Emergency Preparedness Program Coordinator. Her services for the Department of Health Services include the never-ending updating of the Hospital's Emergency Operations Plan while also planning closely with the Divisions of Public Health, Environmental Health, and Sanitation. In addition, Eleanor assists with conducting drills such as the Hazardous Materials drill and other exercise drills using NIMS (National Incident Management System) and coordinating risk mitigation efforts on such issues as the H1N1 influenza breakout. Most of Eleanor's work involves planning and organizing with not only the Health Services staff but also with stakeholders from the Departments of Public Safety, Transportation, and Education. Eleanor is also working on finalizing Memorandums of Understandings and partnerships with other companies, non-governmental organizations, and businesses to help in the event of a real disaster or emergency.
Eleanor graduated from Xavier High School whose school motto is "Men and Woman for Others." She received her Associate of Arts degree from the College of Micronesia and her Bachelor of Arts degree from the University of Hawaii at Manoa. Eleanor would like to put all of her experiences to practice to better assist her island community.
Photo Gallery
Photos from recent activities hosted by the Pacific and Virgin Islands Training Initiatives (PITI-VITI) in support of conferences, training and leadership development, are available below.
COMPLETE GALLERY