Reynaldo Edrosa
Guam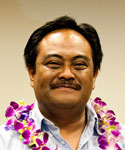 Updated September 27, 2021
Reynaldo (Rey) never intended to work for the government. While pursuing a Marketing degree at the University of Guam, an opportunity to work at the Department of Administration's (DOA) accounting division as a messenger presented itself. Now, years later, which included a brief 10-year stint with the Attorney General's Office Child Support Division, Rey is a Management Analyst and is back at DOA, this time with his Marketing degree and a newfound appreciation for the words "servant of the public". As the newest member of the Financial Management System-wide Support and Control/Management Reports Unit, Rey is responsible for analyzing, reviewing and establishing federal and local accounts in compliance with federal and local laws. Rey also monitors and reviews Public Laws, as well as, works on budget adjustments for several departments assigned to his section. In addition, Rey is involved in the establishment of newly authorized Special Funds in the financial system and assist with the development and facilitation of training other departments and agencies about policies and procedures specific to the DOA's Division of Accounts.
Reynaldo has been a Board of Director for the Guam Community Health Centers for the last five years, and plans to continue to participate as a board member as his personal way of giving back to Guam's community.
Photo Gallery
Photos from recent activities hosted by the Pacific and Virgin Islands Training Initiatives (PITI-VITI) in support of conferences, training and leadership development, are available below.
COMPLETE GALLERY