T'Nelta Mori
Guam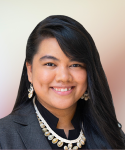 Updated September 16, 2022
T'Nelta Nelson Mori has served the people of Guam through the Guam Legislature beginning in 2013 and continuing today through the Office of Congressman Michael F.Q. San Nicolas in the 116th US Congress. Ms. Mori brings with her seven years of professional executive administration, management and legislative policy experience.
Ms. Mori began her government public service under then-Senator Michael F.Q. San Nicolas where she served as the Executive Secretary and Office Manager, overseeing the administrative run of the senatorial office. She was also appointed to Senator San Nicolas's policy team as his Committee Director for the Legislature's Committee on General Government Operations and Federal, Foreign, and Regional Affairs. In her role as Committee Director, Ms. Mori administratively maintained all Committee business and coordinated public hearings with the various government agencies and stakeholders.
Ms. Mori serves as the DC Director of Staff, Executive Assistant to the Congressman, and Financial Administrator for the Office of Congressman Michael F.Q. San Nicolas in Washington, D.C. She is responsible for the overall operation of the D.C. office ensuring that office policies and procedures are followed. Additionally, she oversees the D.C. staff, maintains the Congressman's official schedule, manages the overall office budget, and acts as a liaison for the Congressman with the staff, other federal agencies, public and other Members of Congress. Ms. Mori is also a key member of the Congressional Office's Insular & FAS policy team and manages casework cases that go through the Washington, D.C. office.
Ms. Mori is a graduate of Simon A. Sanchez High School and attended the University of Guam majoring in Public Administration. She was a member of the University's Chuukese Student Organization and an honoree of the President'sList from 2015 to 2017.
Photo Gallery
Photos from recent activities hosted by the Pacific and Virgin Islands Training Initiatives (PITI-VITI) in support of conferences, training and leadership development, are available below.
COMPLETE GALLERY