Martin Moore
Palau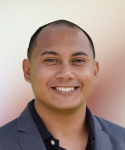 Updated September 16, 2022
Martin Moore currently serves as a Grants Management Analyst with the US Department of Interior's Office of Insular Affairs in Honolulu, Hawaii. His responsibilities include monitoring and maintaining Compact sector grant processes and awards, and assisting senior staff in developing strategies for effective grants management systems, field administration and operations. He maintains contact with insular program/grant managers, researches issues and problems, and answers questions, utilizing grant regulations and educational best practices. Additionally, he reviews strategic plans, annual performance plans, and budgets for Compact sector grant awards and supplemental education grants.
Martin is originally from the Republic of Palau, but was raised in Pennsylvania and currently resides in Honolulu. After graduating from Xavier High School in 2012, Martin attended Chaminade University of Honolulu, where he graduated in 2016 with a Bachelor of Science in International Relations.
Photo Gallery
Photos from recent activities hosted by the Pacific and Virgin Islands Training Initiatives (PITI-VITI) in support of conferences, training and leadership development, are available below.
COMPLETE GALLERY