Antonnette Odeurengul Merur
Palau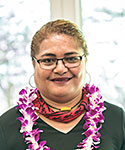 Updated December 05, 2022
Antonnette Odeurengel Merur currently serves as Director of the Bureau of Nursing at the Ministry of Health (MOH) of the Republic of Palau. As Director, Ms. Merur takes the prime leadership role for nursing and midwifery in the Republic and is responsible for providing direction, support, coordination, and management of all activities. She oversees these activities within a framework of continuous quality improvement, ensuring that nursing and midwifery care is delivered at the highest possible standard. She has a critical role in the work of the MOH Senior Executive team. Ms. Merur identifies and acts upon opportunities to improve service delivery, contributes to development of Ministry–wide policies, and is accountable for efficient and sustainable resource utilization. She maintains and expands her knowledge and skills by participating in relevant trainings / meetings and promotes comparable development of all staff to address organizational challenges and opportunities. Ms. Merur has been a practicing registered nurse for the past 23 years. She holds a Bachelor of Science in Nursing from the University of Guam and is progressing with Master's degree-level studies in Health Services Management at the Fiji National University. She is a current Board member of the American-Pacific Nurse Leaders Council (APNLC), a regional leadership organization for nurses in the North Pacific jurisdiction. She is also a member and officer of the Palau Nurses Association. Ms. Merur is active in the community as a Board member of the Palau Swimming Association, and a member of a number of other organizations including a local women's group. Ms. Merur is happily married and has five children with ages ranging from 6 to 23 years old.
PITI-VITI Newsroom
NEWSROOM

topics:
Nov 02, 2023
Monique
With support from the Department of the Interior - Office of Insular Affairs, the Pacific and Virgin Islands (PITI-VITI) successfully held grant training in American Samoa from October 24 to October 30, 2023.
More Info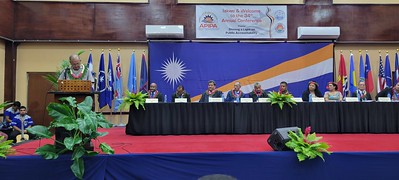 topics:
Sep 05, 2023
Monique
The Association of Pacific Islands Public Auditors (APIPA) successfully concluded its 34th Annual Conference, held from August 28 to September 1, 2023, in Majuro, Republic of the Marshall Islands. This year's conference, funded by the Department of the Interior's Office of Insular Affairs, marked...
More Info
Photo Gallery
Photos from recent activities hosted by the Pacific and Virgin Islands Training Initiatives (PITI-VITI) in support of conferences, training and leadership development, are available below.
COMPLETE GALLERY