Sherlyn Reynold
Chuuk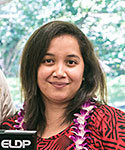 Updated December 05, 2022
Sherlyn Reynold currently serves as a Budget Analyst for Chuuk State Department of Education. Her duties include performing specialized and technical work in the development, maintenance, and analysis of assigned department budgets; monitoring budget expenditures and keeping administrators current regarding spending levels and budget activity; consulting administrators and department personnel in the development of various budgets and preparation of various forms; preparing financial projections and forecasts for project funding, expenditure levels, and salary and benefit costs for assigned department programs; and attending assigned meetings, conferences, and budget hearings. She is also in charge of conducting and coordinating budget trainings/workshops for teachers and principals as well as technical staff at the Central Office.
Prior to working with the Chuuk State Department of Education, Sherlyn worked for the Bank of Guam – Chuuk Branch as a Credits Associate, where she was in charge of processing and approval of loans, and assisting Management during audits or branch visits from Headquarters representatives.
Sherlyn holds a Bachelor's degree in Accounting from Park University and is currently pursuing her MBA. As a graduate of the High School of the Pacific, Sherlyn is fortunate to have already built strong connections and formed relationships with those from all over the Pacific – FSM, Marshall Islands, Palau, Samoa, Papua New Guinea, Solomon Islands, and Hawaii—and is looking forward to expanding her circle of friends/connections at the 2019 Executive Leadership Development Program.
When she's not in the office, Sherlyn spends her time at home with her little family – her wonderful nine-month old son Tyrone and husband Shawn. During her free time, she likes to help assist high school juniors and seniors with FAFSA and college applications.
PITI-VITI Newsroom
NEWSROOM

topics:
Nov 02, 2023
Monique
With support from the Department of the Interior - Office of Insular Affairs, the Pacific and Virgin Islands (PITI-VITI) successfully held grant training in American Samoa from October 24 to October 30, 2023.
More Info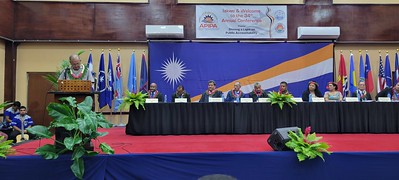 topics:
Sep 05, 2023
Monique
The Association of Pacific Islands Public Auditors (APIPA) successfully concluded its 34th Annual Conference, held from August 28 to September 1, 2023, in Majuro, Republic of the Marshall Islands. This year's conference, funded by the Department of the Interior's Office of Insular Affairs, marked...
More Info
Photo Gallery
Photos from recent activities hosted by the Pacific and Virgin Islands Training Initiatives (PITI-VITI) in support of conferences, training and leadership development, are available below.
COMPLETE GALLERY