Joy Wheatley
USVI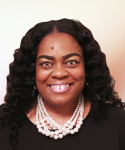 Updated September 16, 2022
Joy A. Wheatley is currently the Comptroller for the Virgin Islands Public Finance Authority (VIPFA) where she supervises a staff of three. Ms. Wheatley is responsible for the day to day accounting functions of the VIPFA to include Accounts Payable, Bank Account Reconciliations, Budgeting, Forecasting, Internal Controls and Policies and Procedures. Ms. Wheatley is also tasked with managing the VIPFA's and its Subsidiaries annual financial audits to ensure compliance for timely issuances. Ms. Wheatley also served as the Fiscal Officer for the ARRA Grants awarded to the territory in 2009 and is currently managing the payment process of the Authority's Disaster Recovery Consultants contracted to do work in the territory due to Hurricanes Irma and Maria to ensure compliance with FEMA guidelines.

Prior to joining the Virgin Islands Public Finance Authority Ms. Wheatley served as Operations Accountant for Chevron Caribbean Inc where she managed the day to day operations of two company owned service stations, used Sarbanes-Oxley (SOX) to help identify gaps, close gaps and ensured adherence to proper guidelines, and was also a member of Chevron Caribbean's Audit Team.

Ms. Wheatley holds a Bachelor of Science Degree from DeVry Institute of Technology, a Graduate Certificate in Forensic Accounting and Fraud Examination from Southern New Hampshire University and is Lean Six Sigma Yellow Belt Certified.
Photo Gallery
Photos from recent activities hosted by the Pacific and Virgin Islands Training Initiatives (PITI-VITI) in support of conferences, training and leadership development, are available below.
COMPLETE GALLERY