Pressler Martin
Pohnpei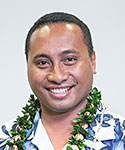 Updated December 05, 2022
Pressler Martin serves as Education Specialist for the Pohnpei State, FSM Department of Education. In this capacity, Pressler is a leading expert in the social studies/language arts areas where he supervises curriculum writers and researchers and develops and implements curriculum for grades K-12. Among his other duties, Pressler coordinates and carries out teacher trainings and workshops, visits schools and works with teachers to ensure that all students are getting quality instructional services. In addition, Pressler coordinates the Close Up program to Washington D.C. and the Local Close Up program held on Pohnpei, the capital of the Federated States of Micronesia. Pressler was recently selected amongst Pohnpeians to work collaboratively with the Governor of Pohnpei, the Vice-Speaker and two facilitators from Michigan University to develop the World Park Plan for Pohnpei. The aim of this project is to develop a sustainable economy with sound cultural and environmental mix thus benefiting Pohnpeian citizens. Prior to his current position, Pressler was the Assistant to the Director of Pacific Rim Program for Park University. This program was provided to offer online courses to teachers who are working toward their Associate of Arts and Bachelors of Arts in Education in Majuro, Saipan, Ebeye, and Pohnpei. Pressler received an Associate of Arts degree in Liberal Arts/Education from the College of Micronesia, a Bachelor of Arts in Elementary Education, and a Master of Arts in Education Leadership both from Park University in Parkville, Missouri. Pressler's goal is to improve his leadership skills to better serve his nation.
PITI-VITI Newsroom
NEWSROOM

topics:
Nov 02, 2023
Monique
With support from the Department of the Interior - Office of Insular Affairs, the Pacific and Virgin Islands (PITI-VITI) successfully held grant training in American Samoa from October 24 to October 30, 2023.
More Info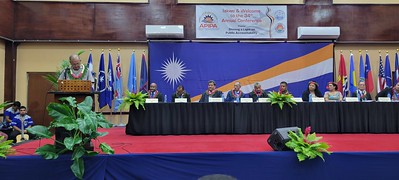 topics:
Sep 05, 2023
Monique
The Association of Pacific Islands Public Auditors (APIPA) successfully concluded its 34th Annual Conference, held from August 28 to September 1, 2023, in Majuro, Republic of the Marshall Islands. This year's conference, funded by the Department of the Interior's Office of Insular Affairs, marked...
More Info
Photo Gallery
Photos from recent activities hosted by the Pacific and Virgin Islands Training Initiatives (PITI-VITI) in support of conferences, training and leadership development, are available below.
COMPLETE GALLERY