Ann Noda
Kosrae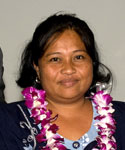 Updated December 05, 2022
Ann attended college at Park University in Parkville, Missouri, where she graduated with a BA in Business Administration with a concentration in management and marketing. After returning to Kosrae after college, Ann spent the past 13 years working as the Chief Legislative Aide for the Kosrae State Legislature. Ann's primary responsibilities with the Kosrae Legislature include researching and developing legislation; reviewing and analyzing the annual budget proposal for the Kosrae State Government, branches, departments and agencies; keeping up-to-date and maintaining fiscal fund balances; reviewing audit reports; drafting legislative measures and reports for legislative committees; and providing legal analysis on National, Constitutional and State laws to members of the Legislature and the general public. Ann is the Legislative Aide most responsible for the preparation of the Kosrae State budget bill and takes great responsibility and initiative to ensure that the bill and supporting material are prepared correctly and available to the Legislature. In 2005 Ann served as the Legal Staff to the Third Kosrae State Constitutional Convention. We are very fortunate to have a representative in the ELDP group with such strong legislative experience.
PITI-VITI Newsroom
NEWSROOM

topics:
Nov 02, 2023
Monique
With support from the Department of the Interior - Office of Insular Affairs, the Pacific and Virgin Islands (PITI-VITI) successfully held grant training in American Samoa from October 24 to October 30, 2023.
More Info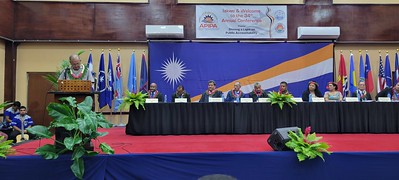 topics:
Sep 05, 2023
Monique
The Association of Pacific Islands Public Auditors (APIPA) successfully concluded its 34th Annual Conference, held from August 28 to September 1, 2023, in Majuro, Republic of the Marshall Islands. This year's conference, funded by the Department of the Interior's Office of Insular Affairs, marked...
More Info
Photo Gallery
Photos from recent activities hosted by the Pacific and Virgin Islands Training Initiatives (PITI-VITI) in support of conferences, training and leadership development, are available below.
COMPLETE GALLERY