Peteru K. Lam Yuen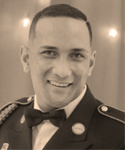 Peteru K. Lam Yuen has been employed by the American Samoa Community College (ASCC) for over ten years, during which he has advanced through multiple roles to his current position as Financial Aid Officer. Mr. Yuen has effectively headed the Financial Aid Office since 2012. His leadership has resulted in a decrease in the total number of Financial Aid Batching in an award year from 27 (2012) to 13 (2017). This decrease in batching has allowed for significant improvement in turnaround time for students to receive their financial aid refund checks. His office has also been responsible for the drawdown of over 25 million dollars in Title IV funding from the USDOE since 2012. He has implemented a number of student outreach workshops in the past five years to address transferability issues and financial aid assistance for current and prospective students of ASCC.
Mr. Yuen has also served as an Infantryman in the US Army Reserve since 2011. He is an active member of his local Red Cross Chapter and is the General Secretary for the Congregational Christian Church of American Samoa (CCCAS) Youth Council. He helped establish a youth tutorial center in conjunction with CCCAS that offers ASVAB, math and English tutoring. He is a strong youth advocate in the church and community and believes that educating the people of American Samoa and planting seeds in young minds will ensure a successful future for the territory.
Peteru has an MLS in Public Administration and a BS in Justice Studies from Fort Hays State University, and an AA in Liberal Arts and Pre-Law from American Samoa Community College.
---
Other Participants of ELDP Pacific Class of 2019
---